Promoting Good Health Through Lifestyle Modification
Clinical studies on the relationship between lifestyle habits and health outcomes
Development and clinical application of a novel lifestyle modification program that people can enjoy and incorporate into daily life
Develop apps that can be used as digital therapeutics
Expand healthy life expectancy, improve quality of life, and reduce health care costs
Examine and publicize the health effects of dashi (fish soup stock) and fermented foods to the world
Aiming to promote good health through improvement of lifestyle habits
The increase of obesity and type 2 diabetes is now become a severe global problem. We have previously reported that healthy diets and sleep habits were associated with lower risks of stroke[1], diabetes[2], and total and cardiovascular mortality[3], lower adiposity-associated biomarkers[4], and higher physical and mental health-related quality of life[5].
In response to the medical and social needs in recent years, we are going to develop a new behavior modification program promoting healthy lifestyles for Japanese people based on the latest evidence in nutrition epidemiology. In addition, we will develop medical software device such as apps that can be available as digital therapeutics to push our program into clinical practice. Our program will not only extend healthy life expectancies and improve quality of life but also reduce health care cost by preventing obesity and lifestyle-related diseases.
Further, as Japan is well-known for a healthy diet including dashi (fish soup stock) and fermented foods, we will make use of these healthy foods in our program and examine and publicize their health effects to the world by conducting clinical studies.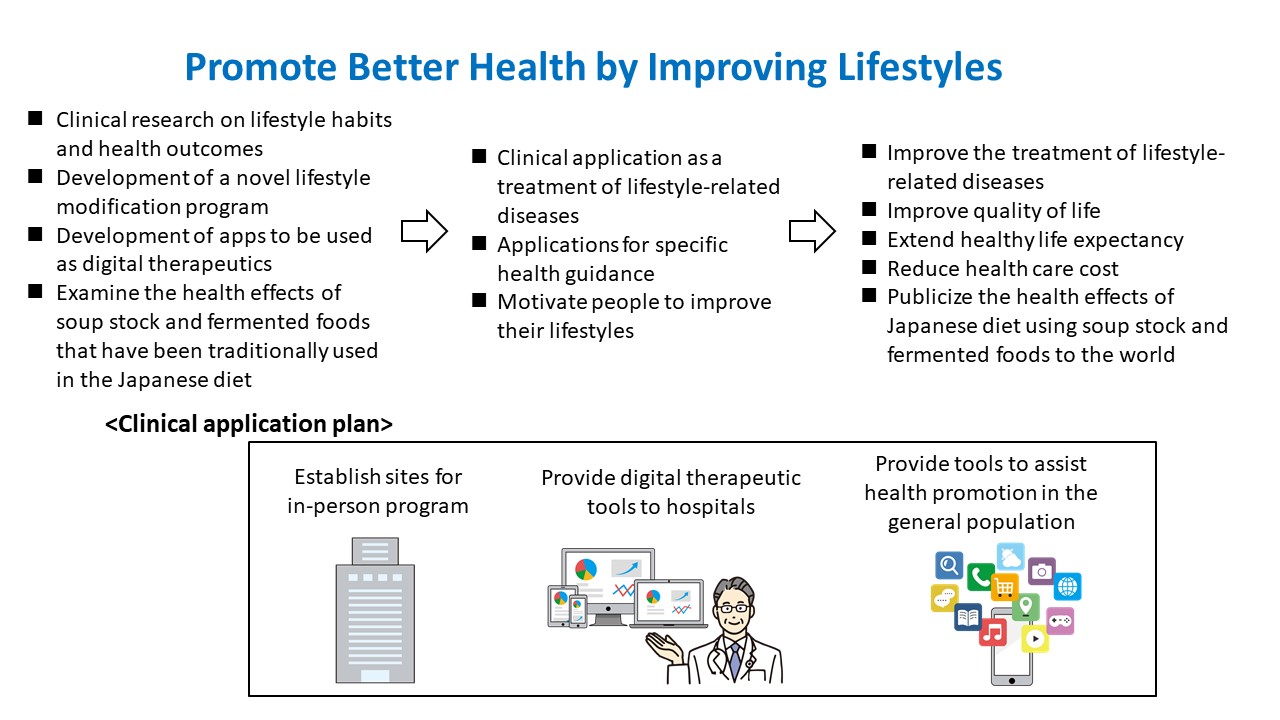 <References>
1. Baden MY et al. Neurology 96: e1940-53, 2021
2. Baden MY et al. Diabetes Care 43: 1219-26, 2020
3. Baden MY et al. Circulation 140: 979-91, 2019
4. Baden MY et al. Journal of Nutrition 149: 676-86, 2019
5. Baden MY et al. British Journal of Nutrition 124: 960-70, 2020